yee to the haw
Artist
Team Alpha
Pokédex No.

1350
Caught

Jan 19, 2020
Messages
Location
Nature

Careful
Pronouns

she/her
Pokémon Type

Fire

Dragon
Pokédex Entry

Robot lover by day, robot lover by night as well. This Pokemon spits out a comic page about once a month before scuttling back into its room.
(kicks down door) PROMO SEASON PROMO SEASON
The Long Way (Yet Another SoulSilver Nuzlocke) - Alex_Nidas
In the mood for a story that introduces more twists and layers as it goes, as well as an insane amount of improvement in both art and storytelling? Alex_Nidas has got you covered! A sequel to the first nuzlocke run, The Long Way SS edition continues the story and it just keeps getting more fascinating as more depth is introduced to what's going on. It's a fun plot that has you hooked to see what will happen next. The art improvement is super inspiring, and it's so interesting to see how the artist grows and designs each new Pokemon added to the cast. A great binge for all your nuzlocking needs!
Across the Divide - pkmnMasterWheeler
Honestly, if you haven't read Wheeler's work, are you even a nuzlocke fan? This artist has an impressive cast of comics to pick from, and this is my personal favourite. With a fun addition of Ash's Pikachu being the main character this time, whisked away to a different universe from his own, AtD offers a super unique and fun premise to sink your teeth into. Super charming and loveable cast, adorable art and dynamic battles, and the best Rattata character (don't @ me) in a nuzlocke, what more could you ask for?
Wanted! A Pokemon Colosseum Nuzlocke - YumeTsuki
As someone who has limited knowledge of the Colosseum games, Wanted! is a delightful surprise with every page. While I can't really speak for how it changes and adapts the canon game plot, I can say that Yume has constructed a super compelling main character who is an absolute blast to follow. The reactions and art in this comic is top notch and will make you laugh when you need to, and get choked up when you need to. I shan't spoil anything for those who haven't read, but a recent development in the story has left me absolutely gutted in the best way possible and I am hungrily awaiting new pages. Catch up if you haven't already!
A Knight's Gale - FoxRodDraws
Now that AKG is on the forums, I will never shut up about how good this comic is. Because it really is that good! A super fascinating and compelling start compared to the ingame slog that is the SWSH opening, FoxRodDraws immediately sucks you in with the intrigue about what's happening in he world, and what will unfold. The main character is loveable and compelling, and you immediately want to protect her but also see what changes she'll go through on her adventure. One of the strongest openings I've seen for a nuzlocke, honestly! I can already tell A Knight's Gale is going to be a super special nuzlocke and I'm so excited to partake on this journey with the artist. Hop on board and read it now!
Penumbra - TwistedEerie
God. Penumbra. What can I say that hasn't already been said? You've probably heard lots of praise for this comic each promo season, and it deserves it all and more. Penumbra has one of the most fascinating, emotionally satisfying, intriguing original stories I've seen for a nuzlocke, with such gripping storytelling and compelling characters and organic conflict you'll honestly be left breathless by the end. The art style is so gorgeous and experimental, you can't help but be inspired to try and improve your own art game. Honestly, all I can say is if you somehow haven't already read Penumbra, read it, you will be so grateful you did.

Deadly Syns - SysterSyn
Another Nuzlocke classic that I'd honestly be shocked if you haven't read. Deadly Syns has such a fascinating premise and mystery that leaves lots to think on after each major scene. The art style is so clean and appealing, and super easy to follow the dialogue and action. Each plot point added to the story just adds more and more depth and concepts that it's such a fun read to get sucked into - aside from all the trademark Dingo pain, of course. Oh yeah, make sure to bring some tissues when you sit down to read; this artist knows how to tug on the heartstrings. It's all in service of an amazing story, though, so well worth it!
Autumn in Sinnoh - Nessi
Following, what else - Autumn in Sinnoh - as our main protagonist is whisked off to a PMD-style story within the Sinnoh we all know and love, AiS is such an enjoyable read. It's so, so good. It has wholesome, adorable characters that, rather than rushing over them to get to the battles, the artist takes the time to fully explore and develop these characters and their relationships with each other. When I tell you this cast has so much depth, I mean it. I love when an artist can make us care so much about a team and get emotional without leaning on only team deaths alone. All told with a gorgeous art style with beautiful colors, this is a must read for any fans.
Step by Step by Step - Tailsimp
Another amazing nuzlocke for the category of "amazing improvement in both storytelling and art." SbSbS has such a loveable, adorable, appealing art style that makes you want to screenshot every panel and gush over all the details in the update channel. ADORABLE pokemon, from the main team to even the side characters that show up, it's just such an enjoyable read that's super cozy, but doesn't shy away from the serious parts of our main character's journey. I'm so excited to see where the artist takes us on this journey. Please read it if you haven't already!
Sunlocke - TheTRUEgge
A super inspiring comic that's come so far and just gotten better and better with each page. A cast of loveable, interesting, and unique characters that are simply impossible to
not
get attached to. Yeah, Sunlocke is great. I'm so glad I decided to read this comic - SUMO is a massive game to try and cleanly adapt, but this artist has great pacing and chooses just the right moments and dynamics to focus on. It's impossible to not get inspired when you see how well this story is told. Set to a super pretty art style with colors that truly bring out Alola's beauty, it's a comic you simply can't put down.
Soul Brothers - GECKO
You know how there's those comics that just hit every emotional moment, be they happy and uplifting or devastating and heartbreaking, perfectly? Soul Brothers has got you covered. It's a comic that perfectly balances the adorable, loveable characters and the shenanigans they get up to with the horror and realistic nuance of a region under attack, with dangers that just simply cannot be escaped. Soul Brothers is heartbreaking, it's hilarious, it's writing and art is top notch, it's honestly got everything you could ask for from a nuzlocke.
Leftovers - Pcaara
A non nuzlocke edition, ooo! But seriously, Leftovers deserves just as much attention as the nuzlocke entries on this promo list. There's something so special about a story you can tell the artist pours all of their love and soul and hard work into. Leftovers is a truly ambitious project, detailing a very intriguing plot about the state of Hoenn as one girl tries to forge her own path as a trainer. With characters that feel so real, conflict that's so organic and addresses a lot of problems and issues most comics don't focus much on when it comes to being a trainer, and GORGEOUS art that always strives to tell the story as best as it can, Leftovers truly is a unique experience. It'll leave you thinking about the Pokemon world in ways you've never considered before. The attention to detail is top notch, so go read it if you haven't already!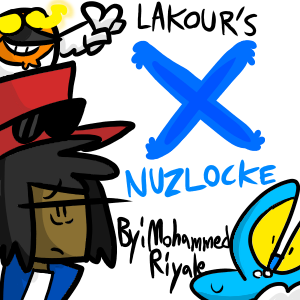 Lakour's X Nuzlocke - Waweezer
Thought the fun added with Waweezer's Sword run? Ha, not even close! This artist is back to provide those hilarious nuzlocke giggles with a brand new comic, set in the XY universe this time. I cannot overstate how in love I am with this comic's cartoony style. It's super expressive and so much fun! Waweezer's comics are always a great binge, so go check this one out and their sword run if you haven't already!
Road Map Not Included - ashdrawarts
A criminally underrated gem of a nuzlocke, RMNI is a great adaption of the BW story. I especially love the changes and added depth to the already fantastic rival characters. The main trio has such a good dynamic that's being tested in the best way possible as they partake on this adventure. The art is so appealing and makes great use of the grayscale format. Each update just gets better and better - and more heartbreaking. Finley is a protagonist who you just want to protect from all bad things, but are also so eager to see how this journey changes them as a person. Read this comic right now after you finish browsing the promos, it deserves the attention!
Broken Sword - Dirtwig-Draws
If you find you're craving a comic that has a bit more tongue in cheek humour while still telling a story that expands upon the game's plot, might I suggest Broken Sword? This comic continues to improve with each page and has amazing redesigns that make sense of some of Pokemon's more outlandish designs. The main protagonist is a hilarious, loud, vulgar character to follow, but she still manages to get you to root for her and hope this journey can help her find her place in the world. With so many fun additions to the game's lacklustre story, it's honestly a crime to not dive into what Broken Sword offers!
Sinners of Sinnoh - santanicswirlix
Okay, so technically this nuzlocke isn't out yet - but just try and stop me from promoting it, you can't! >:V But seriously, Sinners of Sinnoh is going to be amazing. I mean, a fully animated nuzlocke with amazing animation timing, humour, designs, the full package? How can you resist that! If you don't believe me, go watch the scene preview up on the thread and tell me you're not hyped as hell for it. So excited to see what the artist has in store for this project!
First Summer - Krisantyne
It'd be a crime to not promo my personal favourite nuzlocke. First Summer is just an amazing story, amazing comic, amazing everything. Every aspect of this comic, the art, characters, storytelling, shines so brightly. I don't need to even tell you how great the art improvement in this comic is, you know it, we all know it, we all are inspired and awed. Aside from giving you gorgeous panels to drink up every detail, First Summer is a super compelling narrative that's impossible to put down. The main character has such a unique and relatable reason to partake in this journey and risk the lives of her friends for, you're both rooting for her and terrified what consequences are going to come from this. Every character feels so real, so loveable, realistic flaws and all. What else can I say? First Summer is a top notch experience. I am going to side eye you very hard if you skip out on reading it.
Last edited: