Conqueror of the Azalea Gym
Writer
Team Delta
Pokédex No.

212
Caught

Jun 30, 2019
Messages
Location
Nature

Careful
Pronouns

She/Her/Hers
Pokémon Type

Fire

,

Psychic
Pokédex Entry

She tries her best, but doesn't succeed. She gets what she wants but not what she needs.
"As above, so below, as within, so without, as the universe, so the soul." – Hermes Trismegistus
​
This is a story about a girl who is tired of pretending. She's spent most of her life putting on a show for the cameras, and she's finally broken free. Follow Lilian Meridian- the master of Contest ceremonies that you've probably never heard of- as she embarks on a very delayed journey as a Trainer, alongside her freshly hatched Pokemon partner and a certain green-haired enigma. There will be action, there will be romance, and there will be
plenty
of introspection- all while saving the world from a disastrous fate. On second thought, maybe Lilian should've just stayed in show business...
Welcome to As Above, So Below! This is an Alpha Sapphire Wonderlocke that takes place 16-ish years after the events of ORAS. As such, the overall plot of this story will vary greatly from ORAS; as characters that were kids are now adults, adults are even older adults, predicaments have come and gone, etc... This run is from the perspective of Lilian, my MC, and will be written in first person. If you're curious about the detailed rules of my run, click the spoiler below!
1.) If a Pokemon faints, it's considered dead and will be boxed for the remainder of the run. No exceptions.
2.) I can only "catch" one Pokemon per new area. Since this is a Wonderlocke, I will be trading one Pokemon per new area rather than keeping what I originally caught.
3.) The Pokemon that I get traded to me is only viable to use if its level begins with the same digit as ALL of my other Pokemon or below. For example, if one or more of my Pokemon aren't above level 20 yet, I can only keep a traded Pokemon that's level 01-19. Essentially, ALL of my Pokemon need to have the same first digit in their level for me to be able to keep a traded mon of that same first digit.
4.) Conversely, rule #3 means that if all my Pokemon are at level 60, a level 1 traded Pokemon still counts as a catch, and I will have to level it up if I want to use it.
5.) If a Pokemon is traded to me and does not fall within the level requirement, I am allowed to trade it back for another Pokemon. I can keep doing this until I get a Pokemon that falls within the level requirement. This is the only circumstance in which I'm allowed to try for another trade.
6.) I consider the following Pokemon exceptions to the above rule: Wurmple, Zigzagoon, Magikarp, and Bidoof. Wondertrade is littered with these, especially in ORAS, and my entire run would just be these four Pokemon if I didn't ban them from use.
7.) I do not HAVE to use each encounter, aka trade. If I decide not to use a Pokemon that technically meets the level requirement, it still counts as my encounter for the area. I must box it and I cannot use it for the remainder of the run.
8.) Dupes clause is on.
9.) All Pokemon are given nicknames (not literally, because I can't nickname Pokemon traded to me, but they will be nicknamed in the run)
10.) Exp. Share is off, and I do not use O-Powers.
11.) TMs are allowed, but can only be taught to one Pokemon.
12.) I am only allowed one Mega on my team. I'm not even sure if I'll be implementing megas, but this seems like a good rule in case I get a team with a lot of potential megas.
13.) I will be using HM slaves to navigate the obstacles in this game. They cannot and will not be used as canon-fodder, only to get past obstacles.
14.) Healing items are permitted
15.) My battles are set to switch; I know that's the easy way out, but that's just how I do things haha.
This "Mature" tag is for cursing, suggestive themes, and mild/moderate violence. I promise it's nothing too sexy/vulgar/gory!
In retrospect, I probably took it a smidge too far slapping that guy.

Did he deserve it? Absolutely. Guys like him deserve to be called out. But that slap wasn't meant for him. I mean it was, but it was bigger than just one cocky pervert. No, that slap was for all of them. All of those assholes that think it's okay.

"I want you to know that you embarrassed me today, Lilian."

"How's that?" I retort, sarcasm dripping like thick honey from my voice. I refuse to look at my mother standing across from me. Instead I keep my arms tightly folded and my eyes fixated up, sinking further into the black leather couch.

My mother lets out a tense, bitter chuckle. She swipes the remote from the coffee table, diamond tennis bracelets rustling against her wrist. The television clicks on, and in my peripheral I see her make a wide, sweeping gesture towards the screen. "Have you already forgotten this disgraceful display?" she asks through tight lips.

Sighing, I humor her and tear my gaze away from the ceiling. A newscaster is gearing up to roll a clip that I've already watched about a million times in the past few hours. For most people, it would be strange for them to see their face plastered all over the news. Then again, most people aren't major media personalities.

I watch myself on the screen, and at the same time, I don't. I watch the caricature of a girl my mother spent years curating. Fake hair. Fake clothes. Fake personality. None of it is real.

The girl's mouth curls into a saccharine, disingenuous smile as she addresses the audience. She sends a flirty wink in the direction of the camera, gloved hands resting on her bare waist. She dons an electric blue sports bra that accentuates her cleavage and a pair of the shortest shorts imaginable to match. With sweatband-clad arms, she gestures towards the gaggle of coordinators making their entrance. The crowd erupts in thunderous applause. She raises her hands high in the air, encouraging the spectators to cheer even louder.

My heart skips a beat as a familiar man strides past her- a coordinator that tries his luck grabbing at the girl's ass with a cupped hand.

That girl is me. I watch myself seize his wrist, throwing it away from my body and giving him a hard shove. The audience gasps as he tumbles a few steps backwards. The arena settles into utter silence as I begin to shriek and scream at the guy, barely forming coherent sentences. He looks bewildered, backing away from me little by little as I carry on in hysterics.

My mother clicks the television off right as I deliver a swift slap to his face.

I feel the same odd combination of self-hatred and cognitive dissonance that I always do when I see myself on TV. It's a strange sensation that starts as a hazy feeling in the front of my head and ends as a suffocating hitch in the back of my throat.

I shake my head in an attempt to refocus and my wig becomes slightly askew. I rip it off in frustration, throwing it at my mother's feet. When I decided to grow my hair out last year, she insisted I wear one to maintain my "sporty girl" image. The logic behind that still escapes me.

My mother glances at the wig disdainfully, and then at me with a mixture of disappointment and contempt reflected in her sapphire eyes. I hate that I get them from her.

"Are you pleased with yourself?" she asks in a measured tone, leaning down to pinch the wig with her slender fingers and sets it on the coffee table. To anyone else she would appear calm as can be, but I can already see the cracks in her composed facade beginning to form.

"Thoroughly," I mutter, running a hand through my long, loose waves. To be honest, I'm much more pleased with the fact that I never have to wear that damn wig ever again.

Before my mother can reply, the front door swings open. I know who it is even before I hear the familiar clicking of low heels and the swishing of a long skirt.

"You made quite the little scene today, didn't you Lilian?" my sister simpers, plopping down in the armchair adjacent to me. She folds her hands in her lap, cocking her head in the expectant, judgmental way only Vivian Meridian manages so well.

"I'm sorry, did I taint your flawless reputation?" I ask, eyeing her with abhorrence. Even without the wig, I look just like her. Same dark eyes, sloped nose, auburn tone to the hair. Same bone structure and full lips. Same beauty mark above the mouth, just different sides. We're five years apart, but we look like we could be twins. That was always the gimmick, after all.

Vivian purses her ruby red lips, smoothing her skirt with both hands. "Hardly. I mean don't get me wrong, it was mortifying. But the Meridians can bounce back from this."

My mother nods vigorously in agreement, eyes glued to her phone as her thumbs fly across the screen. "Your sister is right. I'll arrange a press conference for first thing tomorrow morning and Nancy has already agreed to have you on Hoenn by the Hour sometime this-"

"Mom," I snap, pinching the bridge of my nose. "You seriously don't get it? I'm not interested in coming back from this. I'm finished."

Vivian scoffs and my mother waves a dismissive hand. "Don't be absurd, Lilian. This is your career. You and your sister were born to be in the public eye."

"Says who?" I counter, feeling a massive lump forming in the back of my throat as I fight back tears. "Is it that surprising I'm fed up with constantly having to put on such a ridiculous facade?"

"Frankly it is," Vivian interjects, giving her hair a prissy toss over one shoulder. "You have a very cushy life. If I were you, I wouldn't be so eager to give up such a golden opportunity."

I roll my eyes so far back into my head that I'm surprised they don't fall into my skull. She doesn't even get it. She's always been branded as the elegant, classy one. Nobody thinks it's okay to smack her ass. "You're right Viv, getting fondled and catcalled on national television every week is such a blessing," I reply, glancing upward and lifting my hands in mock prayer.

My mother slams her fist down on the coffee table, sending an ornate glass vase crashing to the ground. "Cut it out," she spits. "This thankless attitude is very unbecoming, Lilian."

The outburst startles me but I refuse to cry in front of her. My mother sees weakness in pain and I don't want to give her the satisfaction of knowing how lost I feel right now. Instead, I rise from the couch and walk swiftly to the guest room. As soon as I'm not facing them, I allow myself to break down, angry tears spilling down my cheeks as I slam the door behind me. I feel a liberating sense of relief peeling the tight spandex from my body and swiping my heavy makeup off. Never again.

Throwing my suitcase on the bed, I pull out the baggiest cardigan and most shapeless dress that I can find. It feels relieving to be able to cover up, but I feel a twinge of shame watching myself in the mirror as I slip the clothing over my head. My body has felt foreign to me lately, like it belongs to all the men who've made a sport out of leering at it.

I shove the rest of my belongings into my luggage and fling the door open, storming past the living room towards the foyer. "I'm staying at a hotel for the night," I mutter as I fumble with my keys. "I need to clear my head."

"Don't bother coming back."

Caught off guard, I stop in my tracks and swivel around. My mother swirls a glass of her favorite chardonnay in her hand, sipping from it casually as she regards me. The broken vase still lays at her feet. "That's right. If you're going to abandon everything I worked so hard to build for you and your sister, then you're not welcome in my house," she simpers.

I try to speak but I'm dumbfounded. My eyes flicker briefly to Vivian, who turns her nose up at me. I glance at my mother and she makes a shooing motion with her free hand. "Either go back to your apartment in Kanto or make use of all the money I earned you and find somewhere else to stay."

The lump in my throat from earlier is now decidedly suffocating me. I consider trying to say something to remedy the situation, but I'm not even sure if I want to. I take a deep breath and hang my spare key on the wall hook, respecting the last wish of my mother's that I ever plan to honor by walking right out the door.


***

The coffee shop reeks of burnt beans and synthetic vanilla, but at least it's quiet. Petalburg is a small city with not much in the way of good cafes. I take a tentative sip of my latte, wincing as the heat singes my tongue. My ears perk up as I hear my name coming from the old radio perched on top of a warped wooden bookcase. Paranoia washes over me and I glance around the room, panicking at the thought of someone recognizing me. If I could have it my way, I would make myself invisible. That would solve just about all of my problems.

Luckily, most patrons seem too engrossed in their own business to pay me any mind. I sigh and sink further into my seat at the bar, tugging at the sleeves of my sweater. My eyes still burn from mascara bleeding into them when I was crying. I rub them with balled fists and bite my lip.

This is the first moment I've had alone since my outburst at the Saffron City Contest Hall. Security held me until that prick decided he wasn't going to press charges, then they passed me onto my assistant. She watched me like a Pidgeot on the plane ride home, never taking her eyes off me. I don't blame her. With the way I was acting, it probably seemed like I was on the verge of a mental breakdown.

My breath hitches as I begin to consider what my next move should be. I wasn't exactly planning on assaulting someone on live television and tanking my career today. Vivian and my mother were right; I know enough about show business to recognize that I could bounce back from this. My PR team would spin some female empowerment narrative and I'd be hosting Contests again in no time, probably with an even bigger fan base than before.

But that's not what I want. That's not what I've wanted for a long time.

On the other hand, I don't know what I want. When I was three, I wanted to be a firetruck, and now that seems a tad unrealistic. When I was seven, I wanted to be a teacher. I suppose I could go to college; I certainly have enough money and free time. When I was ten, I wanted to be a Pokemon Trainer like every other ten year old kid in Hoenn. Scratch that- every other kid on the planet. But by that age, my mother was already grooming me to become a star.

My thoughts are interrupted by the noisy chime of the cafe door as it swings open. A lean, grassy-haired man strides up to the bar, dropping a thick stack of flyers on the counter as he settles onto a stool.

"You want your usual, Wally?" the barista asks, wiping the inside of a mug down with the bottom of his shirt.

The man- Wally, I suppose- flashes a thumbs up as he rustles through a sleek messenger bag. He pulls out a crumpled bill and leans down to set the bag gingerly on the floor. His eyes meet mine as he rises back up. "Damn, I have no idea how you're wearing a sweater in this heat," he chuckles, fanning himself as though just the thought is making him sweat. "If I were you I'd be sweltering."

I shoot him a withering look. "Mind your own business."

Wally blinks at me and shrugs, turning away to swipe the to-go cup the barista places in front of him. Feeling annoyed and self-conscious, I hug my cardigan closer to my body and lift my own cup to take a drink. I'm about to get up and move to a different area of the cafe before the writing on the stack of flyers catches my attention.

"You're looking for a travel companion?" I blurt out, a twinge of red rushing to my cheeks as I realize I actually verbalized the thought.

"What happened to minding your own business?" Wally replies with a sarcastic edge, swiveling to face me again. A peculiar shiver runs down my spine as our eyes meet. His are an honest, icy blue, and I am struck with a fleeting suspicion that they could see through all of my bullshit if they wanted to.

"I'm thinking of becoming a Trainer," I say casually, averting his gaze and running a finger along the edge of my mug. What I don't tell him is that the idea entered my mind only a few minutes ago. It's a tempting idea if I've ever had one; doing something with my life that requires more than a stage presence and a nice rack.

Wally raises an eyebrow as he smirks into his cup. "I appreciate the interest, but I haven't been a newbie Trainer for over a decade. I'm not exactly dying to travel gym to gym with some teenybopper."

I grit my teeth. "I'm not a teenybopper, I'm twenty two."

He offers me another shrug, which by now I've ascertained is his default response when he doesn't know what to say. Feeling irritated by this whole conversation, I turn my back to him and finish the last few sips of my latte. Wally pushes off the bar and peels several flyers from the stack, leaving his bag and half-drunk coffee behind. I presume he's popped out to post his ad on the bulletin boards outside, and I can't say I don't appreciate the reprieve.

Other than me and the barista, who's taking his break in the back, the coffee shop is empty for the time being. I pull my laptop out of my suitcase and begin searching for a hotel room. I don't feel comfortable here anymore, and it's only a matter of time before someone comes in that'll recognizes me. The baggy clothing and lack of my usual wig helps, but my face is still my face and it's plastered on every television in Hoenn, Kanto, and probably all the other regions right now.

Suddenly, I hear something moving underneath me and I freeze. Maybe a Pokemon got into the cafe somehow? I shudder at the thought of a stray Wurmple finding its way inside. Those things give me the creeps. I glance down but see nothing.

I hear it, though. My eyes dart to the bag that Wally left behind. Upon closer inspection, it's definitely rustling. As I reach down and pull the main pocket open, I'm abruptly blinded by a brilliant light.

Loud crackling and crunching sounds burst forth from the bag and I don't know whether to cover my eyes or ears. For some reason I find myself holding my breath, not wanting to make any sudden movements. The next thing I know, a baby Pokemon is staring up at me with pieces of its shell stuck to its head. Specifically, a baby Ralts. It smiles at me before letting out a bleary yawn.

Before I can comprehend what's just happened, I hear a distinctive "Fuck," emanate from the doorway.

I turn and see Wally looking between me and the Ralts, arms crossed and jaw clenched. The Ralts promptly starts crying and hops up and down in place, reaching for me with desperate, flailing arms. I'm no expert on Pokemon, but something tells me this one thinks I'm its mother.
Cleo the Roserade!
Female / Poison Point / Calm / Thoroughly cunning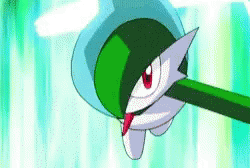 Nikolai the Gallade!
Male / Steadfast / Adamant / Proud of its power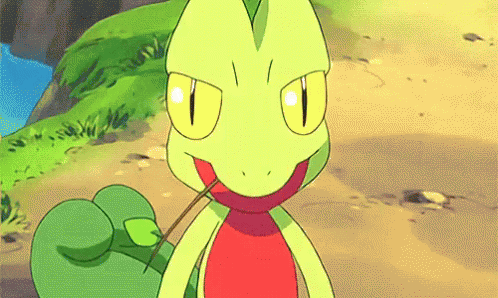 Renzo the Treecko!
Male / Overgrow / Impish / Somewhat of a clown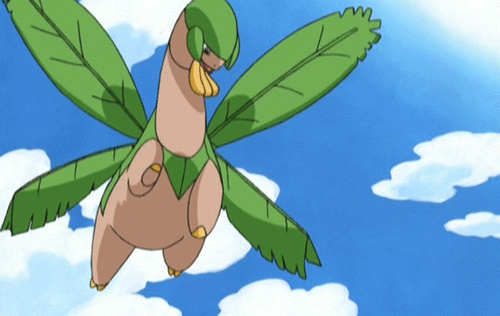 Gloriana the Tropius!
Female / Chlorophyll / Mild / Study body
Vince the Machamp!
Male / Guts / Brave / Likes to fight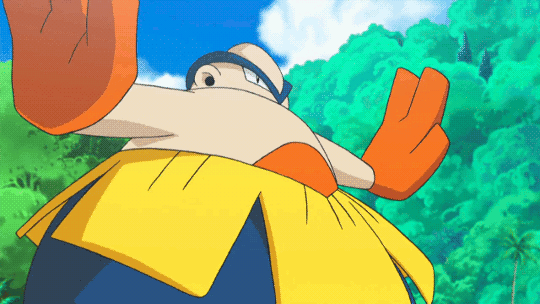 Ivan the Hariyama!
Male / Guts / Hardy / Likes to thrash about
Apollo the Blaziken!
Male / Blaze / Adamant / Good endurance
R.I.P
Sage the Yanma! -
Killed by Brendan's stupid Wailmer on the Cycling Road. Why is that battle so difficult? D:
Female / Compound Eyes / Quiet / Likes to relax
Last edited: