Master of Feels
Artist
Team Alpha
Pokédex No.

254
Caught

Jul 1, 2019
Messages
Location
Nature

Lax
Pronouns

She/They
Pokémon Type

Ghost

Psychic
Pokédex Entry

Their mind is more often in the clouds than not. Most likely sick. Will probably eat your snacks.
ARCHENEMY MY BELOVED…… what a good baby omg.

NFKSJFJSB love how you talked about always getting lost and then got upset at having league people escorting you. Leon knew, Spacey. He knewwwwwwww

Oh, I forgot that the cafes gave you more than just the sweets! A word of warning, though—the next cafe you'll encounter is a double battle that's like 4 levels over the curve for… some reason. It's terrifying.
IT'S TRUE AHAHAHA Leon watched me for three seconds and prepared a Charmander for me specifically from personal experience
Oh lord I will keep that in mind :'D
sounds cool until you remember that gamefreak literally hid the music/sfx sliders behind a missable NPC for no reason????? why tho



in galar they gaid paid in experience, which kinda sounds like getting paid in exposure, except for pokemon that actually means getting physically stronger and evolving so I think that makes it less bad? then again they get assigned to these jobs by their trainers so there's a lot of funky implications to unpack here



I want to make a short hair gang joke but my IRL long hair blocks me, so instead I will criticize the uniform designers for putting the number very high up on the shoulders for some reason



Flying is pretty good for the first gym! pls give archenemy love he is a good boi
It's true flying is good against grass but Archen doesn't RESIST grass which makes dynamaxed mons very very scary. Especially with Defeatist. XD; That dandelion puff hits HARD!
Mworp!!! What a funky little noise Minccino makes. Also typing this comment I realized I had no idea how to spell minccino so I just copied and pasted it from the update

EAT THE RICH indeed. At least you get to kick his ass later.

Also Archenemy!! Oooooo!
Flawless!! XD Minccino can be a tough one to spell. I definitely took some time to learn that one and only because I love it.
TEAM RECAP






​
So today we have a grassy route followed by a cave followed by a route of pastures. Galar really is quite diverse, huh?
Unsurprisingly, not soon after Charming, Squirrel evolves, too!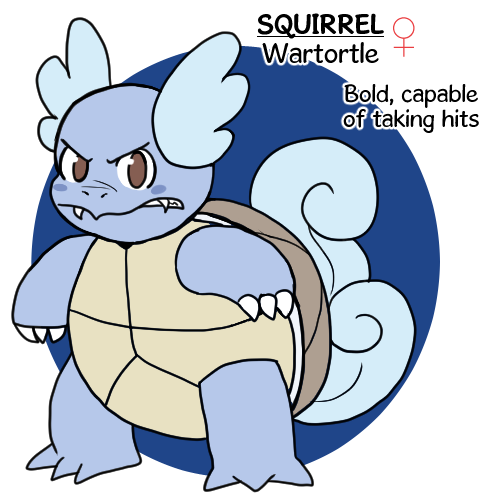 We battle a couple trainers then run into Sonia. She's just kinda staring at a power plant. Very exciting stuff, I'm sure.
Ah. I see.
Apparently he uses that power plant to mine and refine all the stuff in the mine over there to literally just CREATE ENERGY so it can be used throughout the region. Haven't ya'll ever heard of the law of conservation of energy?? Energy can't be created or destroyed???? But I suppose this is the world of Pokemon so SHRUG. Could be he's LITERALLY HARVESTING ENERGY from the rocks.
.... Uh......
Well, he tried.
Love that! Now tell that to the USPS.
Into the mine we goooo!
My wandering and meandering lead to some fun items like the TM for Rock Blast that no one can learn and I interrupt these miners from their jobs to battle them.
HOW ARE THE WORKER LADIES SO CUTE..........
Actually the one worker lady was really tough 'cause I very quickly realized that my team is SHIT against fighting types!! Even, Laura's and Mewtwo are all weak to fighting, then I send out Salad and the Timburr uses ROCK THROW which means Salad and Charming had to stay out of the fight, too. Turns out this worker has THREE TIMBURR so Squirrel got some good bonus EXP.
Sweetie, honey, darling, there is an item RIGHT THERE.
Hi, Bede.
Uh.... yeah? And?
Oh. OHHH he's saying that HE'S more important than ME because he's endorsed by the CHAIRMAN and I'm endorsed by the CHAMPION. Ah, kids. Gotta love their logic sometimes.
That's fine, Bede's got all psychic types at this point, I'll just send Mewtwo out to use Payback and resist the psychic and dID THAT MOTHERFUCKER JUST OPEN THE BATTLE WITH
ENDEAVOR
IT BROUGHT ME DOWN TO LOW YELLOW IN AN INSTANT LMAOOO SO MUCH FOR THAT PLAN
Man it is HARD to take screenshots during a battle in this game! They skip over text so fast!!! But basically Mewtwo is faster (somehow) so she kicks Solosis to the curb and I switch to Laura's 'cause she's the tank of the team.
Freeze-Dry does a little over half so I heal up Mewtwo from the sidelines and have Laura's beat Gothita. Mewtwo comes back out for Hatenna and this is when my lack of Galar knowledge becomes a BIT of a struggle. I totally 100% thought Hatenna was half fairy already lmao. I used Metal Claw and, uh, yeah, normal effectiveness. That's fine, I switch to Payback and Mewtwo survives the fight.
Dude, you gave me my first scare of the challenge! Props.
Bede says he already has all the wishing stars from the cave and leaves. The way he literally waited at the end JUST to fuck with me lol.
We're almost there!! Man look at that background. My Harvest Moon upbringing is giddy.
(post-playthrough realization while editing this chapter.......

..........................

DID I FORGET TO CATCH A POKEMON IN THE CAVE HOLY SHIT)
I got my capture that I am sad I cannot keep because Good Boi!!! Time for a Surprise Trade!
Lol, a dog who is naughty and loves to eat? Who can relate to having a dog like that?
LOL. That was quite the adventure there. And now I have a squirrel. An actual squirrel, not a turtle named Squirrel.
Nothin' crazy, just a squirrel, but Even won't be an Eevee forever so having a normal type is a nice little back-up plan if I need it!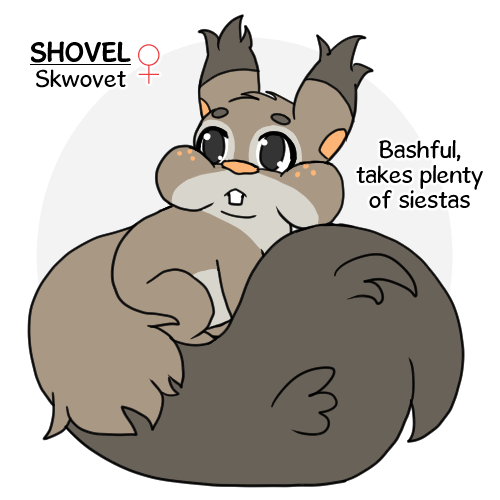 I KNEW Skwovet would break my phone's brain lmaooo it's like "did you miss all the keys?? is this a crazy typo????"
Fuck, we're hitting the Problem lol. I had a feeling. Level 20 seemed so low considering how many routes it takes to get to the first gym. I'm not even AT THE GYM yet! I'm gonna do some switcharoos, I guess.
Me turning on a Pokemon game in 2050 having to play as the 11-year-old avatar character
Hey, look! Wild Mewtwos!!
OHSHITOHSHITOHSHITHSOHGSOGJS
rest in fuckin pieces, kori
Milo introduces himself as the grass-type gym leader and recognizes me as one of the gym leader endorsement kids so that's cool. No pressure. I always really liked Milo haha. He looks so huggable. I'd... probably give him a nose if I drew him, though.
And now we're at Turffield!! Next episode we'll be hittin' our first gym!!
TEAM RECAP
​
Charming

Level 20

Ability: Solar Power

Item: Charcoal

Moves:

Dragon Breath

Fire Fang

Belly Drum

Ancient Power​

Salad

Level 19

Ability: Corrosion

Item: None

Moves:

Payback

Poison Fang

Fake Out

Ember​

Laura's

Level 19

Ability: Shell Armor

Item: None

Moves:

Life Dew

Water Gun

Freeze-Dry

Sing​

Squirrel

Level 20

Ability: Torrent

Item: None

Moves:

Rapid Spin

Bite

Water Pulse

Protect​

Mewtwo

Level 19

Ability: Pickup

Item: None

Moves:

Payback

Pay Day

Metal Claw

Taunt​

Even

Level 19

Ability: Adaptability

Item: Silk Scarf

Moves:

Swift

Quick Attack

Sand-Attack

Tail Whip​